Roye Meis Trail Championship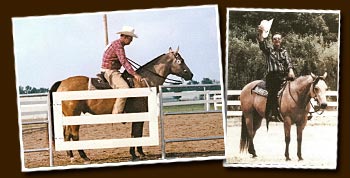 This class was started in the year 2003 to honor and remember Roye Meis, a beloved man, whose enthusiasm for trail competition continues to inspire those competitors who knew him and bring back many fond memories. He always encouraged others to just try competing in trail, especially our BHAM youth.  A traveling trophy, as well as a plaque is presented by the Meis family at our yearly banquet to the highest point earning trail horse each year.
Roye began riding when his daughter finished showing. He was only 50 years young at the time! The first and only horse he rode was Dutch Bar Bandit, affectionately known as "Bandit". They began showing on the BHAM Circuit in 1988. Together they received many ABRA and BHAM awards. Particular to trail were ABRA Champion Amateur Trail (1992, 1993, 1995, 1999, & 2000); ABRA Top Five Amateur Trail (1994, 1996); ABRA Top Five Trail All Ages (1994, 1995, 1996, 1998). The "Roye and Bandit" team received their ABRA Bronze Medallions in ABRA Amateur Trail and ABRA Trail All Ages! Their BHAM awards were too many to list however, BHAM was very proud to honor Roye's memory by making he and Bandit the first recipients of the Lifetime Achievement Award.
Roye's wife, Lorna, comments "I think one of the reasons Bandit and Roye were so successful in trail was that Roye enjoyed the challenge of doing something different in every class. Bandit, being as lazy as he was, just liked not having to expend any more energy than he had to!!! They were such a team! Roye used to say that to 'work Bandit down', he had to ride him from the stall to the ring!"
Bandit was ridden by 3 generations. First, Roye's daughter, who trained him, then Roye, and finally granddaughter, Maureen, who began riding him at 1 ½ years of age in Pee Wee Lead Line! Sadly, Bandit passed on to greener pastures March 8, 2008 at the ripe old age of 27. Until the eve of his death he was very happy and healthy, leading the good life on the farm. He was such a special horse and brought so much enjoyment and fun to the Meis family that loved him!
Roye served on the BHAM Board for many years and was instrumental in establishing the budget for awards and the current rule book. Roye had begun to develop the idea of our Lifetime Achievement Award before he passed away. BHAM was very fortunate to have a man like Roye Meis help mold it into the association it has become today.
Traveling trophy for the Roye Meis Championship is sponsored by Levitte Quarter Horses
Roye Meis Champions
2016 Audra Levitte and Keep Me In The Dark
2015 Audra Levitte and Keep Me In The Dark
2014 Jennifer Kursinsky and Dun In Zippo
2013 Audra Levitte and Keep Me In The Dark